Overview
The London Business School (LBS) is a world-renowned institution for business and management education. Located in the heart of one of the most vibrant and international cities in the world, the school provides students with a unique and enriching experience. LBS was founded in the year 1964 and is persistently ranked among the best business schools in the world. LBS is an excellent choice for those seeking a world-class education in entrepreneurship, finance and general management.
The London Business School offers a world-class education, with a curriculum that is designed to challenge and inspire students. The school also has an excellent reputation for research and offers a range of extracurricular activities and opportunities, which allow students to explore their interests and develop their skills. The school has a strong network of alumni, and students can benefit from the experience and expertise of these successful individuals.

About LBS MiM
The Master's in Management program at LBS, also known as LBS MiM was introduced to help young graduates from various backgrounds get a strong foundation in management skills. Today it's the #1 ranked program in the UK and one of the top courses to get enrolled in at LBS. The course offers a fast-paced curriculum and is highly respected by employers, which makes it a popular choice for students looking to enter the workforce. Along with its strong alumni support, LBS MiM is one of the most sought-after postgraduate courses for fresh engineering and commerce grads, with limited experience.
Course Overview
Master's in Management at LBS is a comprehensive 12 to 16 months course designed to help students get an understanding of critical business models and gain an international perspective. The London School of Business encourages diversity and encourages students from all different backgrounds to be a part of the LBS community.
The LBS MiM allows students to apply their learning in two integrated modules – engage in case studies, class discussion and business simulations. The course is designed in a way to get a balance of practical experience and in-depth theoretical knowledge.
At LBS you can expect to fast-track your decision-making skills and dive deep using data from real-world organizations. The cost of the MiM program at London Business School is £44,900 for 2023 intake.
The course offers 60+ elective subjects to choose from across Applied Microeconomics, Decision and Risk Analysis, Data Analytics for Management,  Business Analytics, Finance, Accounting, Marketing and Strategy. Besides theory classes, there are field trips and students can experience LondonLAB, a live business project supported by faculty and business leaders.
Who should enroll in LBS MiM?
The Masters in Management at LBS is meant for people who are ambitious and striving to work in complex work environments. It is ideal for those who want to gain an international business perspective and future leaders willing to focus on systematic and critical thinking.
LBS MiM acceptance rate and fee
The LBS MiM acceptance rate for the class of 2023 is 12%. Although this percentage tends to vary every year, it clearly demonstrates the school's selectiveness in the admission process. The tuition fees for the LBS MiM program for the year 2023 is £44,900. Additionally, there is a separate Student Association Fee of £150 that enables students to become a part of the vibrant LBS student community.
Eligibility Criteria
To enroll in LBS MiM, these are the eligibility requirements:
Graduate with typically 0-2 years of experience
A strong GPA (usually 3.5 or higher) during the Bachelor's program.
Documents required
Complete application form
GMAT/GRE Score submission
Application essays
One-page CV
IELTS, TOEFL, PTE, Cambridge CPE score
Letter of Recommendation / Referral
Application fee
A copy of the college transcripts
LBS Placements
96% of LBS MiM students got placement offers within 3 months of graduation in consulting, finance, consumer and technology domains. The average salary for fresh MiM Graduates is about USD 68,000 with placements across UK, Rest of Europe and Asia.  The LBS MiM is developed keeping the present and future business scenarios in mind. LBS offers a comprehensive career development programme, equipping students with the skills and confidence to effectively communicate their value to employers. The curriculum is designed by industry experts and focuses on skills and knowledge that top recruiters demand. You will witness global recruiters throughout the year and frequent recruitment fairs to provide you with an opportunity to network with companies, tech firms, and start-ups.
Nearly all LBS MiM graduates get placed within three months of course completion with remarkable salaries.
Life at LBS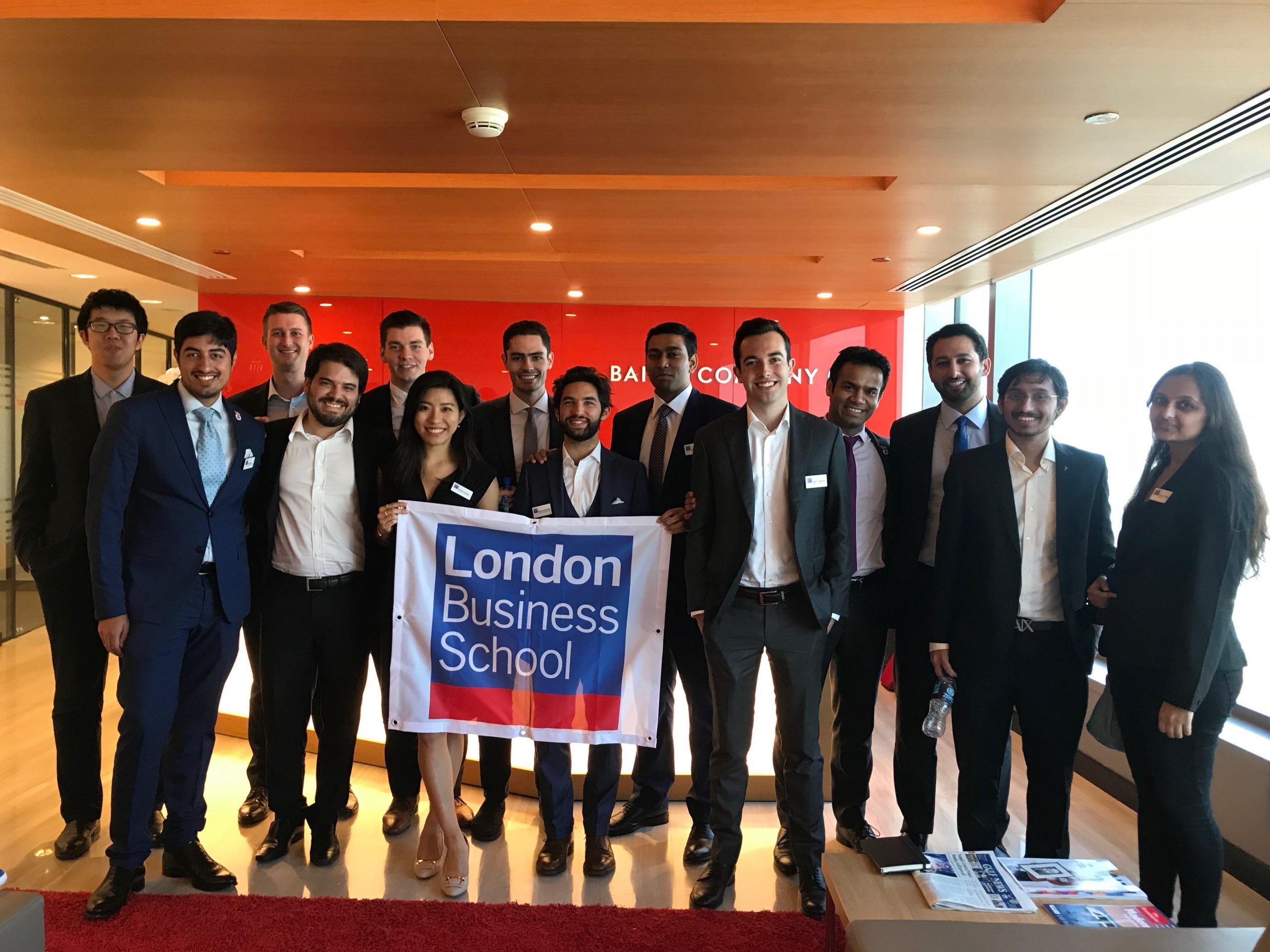 Community building is an integral part of life at LBS, and right from the application stage, you will notice how much LBS values it.
While the London Business School does not require you or expect you to take a leadership role in a club, it wants the students on campus to enjoy peer-to-peer learning. They expect and ensure that students learn and thrive in a collaborative environment.
The college has more than 1000 events per year across 80 or more student clubs. These include social, cultural, and professional clubs. The students are an integral part of developing and executing the events like China Business Forum, Women in Business Conference, etc.
Whether you are organizing the event or merely being a spectator, these events give you a chance to network with subject matter experts, industry specialists, and peers.
LBS MiM Application Process


Online application: Fill out the online application form and upload all the required documents such as transcripts, test scores, and a CV.
Admissions test: Take either the GMAT, GRE, or Tage Mage exam and submit the scores to the school.English language proficiency: If English is not your first language, you will need to take an English language proficiency test, such as the TOEFL or IELTS, and submit the scores to the school.
Letters of Recommendation: Submit two letters of recommendation preferably from academic or professional references.
Essay: Write an essay that explains your motivation for pursuing a Master in Management degree and how the program aligns with your career goals.
Interview: Shortlisted candidates will be invited for an interview, which can be conducted in person or via video conferencing.

Preparing for admission
Students willing to enroll and aspire for admission to the LBS MiM program may require to put forth an earnest effort.  A mentor who has extensive experience in the industry can be a good resource for guidance and support throughout the admissions process, and this is where LilacBuds come into play.
LilacBuds is undoubtedly one of the finest professional study abroad consultants, that provides unbiased advice and detailed guidance in terms of profile development, admission assistance, and test preparation. Each year their students have got successfully admitted to the best schools in UK – including LBS MIM and MBA programs.
Also, at LilacBuds, you can select your own MiM package like Resume guidance, Essay/ SOP package, Letters of Recommendation guidance, an initial Profile evaluation or a comprehensive all-in-one support package.
Increase Your Selection Chance
With their headquarters based in New Delhi and Mumbai, they offer comprehensive mentoring from LBS alums and online consultations to help you ace admission to the LBS MIM program. LilacBuds is one of the most trusted study abroad consultants in Mumbai, Delhi and entire India for Undergrad and Masters admissions consulting to premium institutes globally
For more details, click here. Good luck!
Explore other MIM Colleges
INSEAD      HEC Paris      Essec Mim  Escp MiM