Why HEC Paris MiM?
The HEC Paris MiM course is designed for future leaders looking for a successful career in International Business. In our opinion, the HEC Paris MiM program is a gateway to a lucrative and rewarding career. The curriculum of the course is designed to offer comprehensive experiential learning to its students. Immense practical exposure, advanced learning opportunities and a chance to network with industry leaders are some of the attributes that make HEC Paris MiM a sought-after course.
Here are some advantages of enrolling in the HEC Paris Masters in Management
It offers 20 specializations, 20 international dual degree programs along with an array of electives.
The program offers an optional gap year to gain industry experience.
A dual-faced curriculum offers the right balance of practical and theoretical learning.
HEC Paris MiM has been ranked as the #2 MiM course worldwide. (FT 2022 Rankings)
The HEC MiM offers excellent opportunities to network with top recruiters and industry experts.
An opportunity to learn with 250 high-potential students from diverse academic backgrounds across 64 nationalities.
A wide alumni network of over 60,000 members across 130 countries.
The HEC MiM program is a 2-year intensive learning course.
The first year of the course is the Core Phase. It focuses on General Management and offers a combination of Core and Elective courses. The students have an option of waiving up to 8 courses.
The second year of the HEC Paris MiM is the Specialisation Phase. It offers 20 specializations to choose from, based on your interest and learning.
The optional gap year allows you to gain practical experience through an internship in a field of your choice – finance, marketing, consultancies and much more.
HEC Paris MiM Class Profile
The present class of HEC MiM will give you an insight into what to expect when you apply to the course.
Average age: 23
Average GMAT Score: 700
Nationalities: 56
Percentage of women in an INSEAD MiM class: 45 %
Being a part of the HEC MiM allows interaction with innovative, young and passionate brains from diverse backgrounds.
HEC MiM Employment Opportunities
HEC Paris has a world-class career centre and offers work opportunities with top brands across various sectors including Consulting, Technology, Government and Non-Profit, Finance, Retail etc. 99% of the graduates in the previous year were offered a job within three months of their graduation. The average salary for the year 2021 was € 66,000.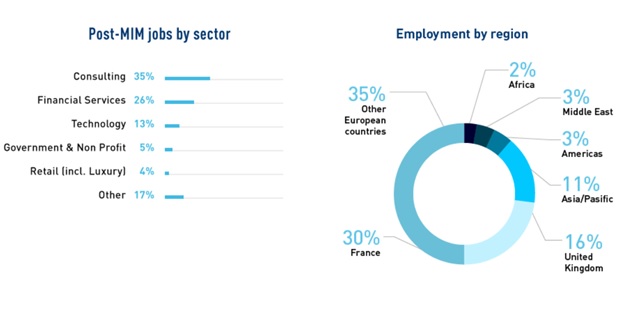 Source: hec.edu
Some of the top recruiters are:
Amazon
BAIN & Company
Deloitte
Deutsche Bank
PwC
Google
EY
Boston Consulting Group
Admission Criteria
A 3-year Bachelor's degree or an equivalent from a recognized university with 180 credits minimum.
English language proficiency test score (IELTS or TOEFL or similar).
Students Experiences at HEC Paris
Since its founding in 1881, HEC Paris has been dedicated to educating future business leaders. The school offers a range of programs, including the Master in Management (MiM) program.
HEC Paris MiM students come from all over the world and represent a diverse range of cultures and backgrounds. This makes for a rich and enriching educational experience.
The average class size for the MiM program is around 35 students. This allows for individualized attention from professors and more opportunities for group work and collaboration.
One of the unique aspects of the HEC Paris MiM program is its focus on leadership development. Students have the chance to participate in international case competitions, take on leadership roles in student organizations, and complete an internship during their studies.
After graduation, HEC Paris MiM alumni go on to successful careers in a variety of industries. Many work in consulting, finance, or marketing. Others start their own businesses or pursue further education through HEC Paris's PhD program
HEC MiM acceptance rate and fee
The HEC MiM acceptance rate for the previous year (2021) was 18.9%, though it varies every year.The HEC MiM course costs € 49,300. If you choose to opt for the gap year, the fee for that year is € 2,750.

Need guidance to get admission to HEC MiM Program?
LilacBuds is one of India's leading MIM study abroad consultants offering admissions consulting services for premium B-schools worldwide. If you are seeking for comprehensive support and consulting for making it to HEC Paris MiM program, feel free to reach out to a Higher-Ed experts at LilacBuds.
LilacBuds is one of the most trusted study abroad consultants in Mumbai, Delhi and entire India for Undergrad and Masters admissions consulting to premium institutes globally.
Explore other MIM Colleges
London Business School (LBS)           INSEAD         ESSEC