People often consider pursuing an MBA for several reasons, such as acquiring essential business skills, preparing for corporate and leadership roles, and advancing their careers across a diverse range of industries. The versatility of an MBA program makes it an attractive option for individuals from various academic backgrounds, as it can provide a substantial boost to their professional growth when completed at a reputable business school.
One such reputed and most sought-after business school is the UC Berkeley Haas School of Business. Ranked as one of the leading business schools in the USA, it offers unique opportunities to learn and grow and enriches life in a plethora of ways.
Here is a lot more about the UC Berkeley Haas MBA and how you can fair your chances to be a part of this esteemed business school.
The Key Sections are
1) About UC Berkeley Haas MBA
2) UC Berkeley Haas MBA Class Profile
3) UC Berkeley Haas Full-time MBA Curriculum
4) UC Berkeley Haas MBA Placement
5) Eligibility criteria
6) UC Berkeley Haas MBA Cost and Acceptance Rate
About UC Berkeley Haas MBA
The UC Berkeley Haas School of Business was founded in 1898 and is the second oldest business school in the United States. Located in Berkeley, California, the school offers a variety of MBA programs, including full-time, part-time, and executive MBA options. 
UC Berkeley Haas is known for its strong emphasis on innovation, entrepreneurship, and social responsibility. Besides, the school is consistently ranked among the top business schools worldwide. For instance, in 2021, it was ranked #7 among US business schools by U.S. News and World Report and #10 worldwide by Financial Times. 
UC Berkeley Haas MBA Class Profile
The UC Berkeley Haas MBA is known for its diverse community of students that come from various backgrounds and industries. Here is a profile of the class of 2023 at the UC Berkeley Haas MBA school.
Class demographics:
Total Enrollment – 331

Women – 39%

Underrepresented Minority Students – 29%

International students – 32%
Academics:
Average GPA: 3.65

Average GMAT Score: 727

GRE Statistics: Quantitative average – 162; Verbal average – 163
Professional experience:
Average years of work experience: 5.4
UC Berkeley Haas Full-time MBA Curriculum
The full-time MBA program at UC Berkeley Haas is a rigorous two-year program designed to develop students' functional skills, leadership abilities, and innovative thinking. The core curriculum covers key functional areas such as finance, marketing, strategy, and operations, while the elective courses allow students to tailor their learning experience to their individual interests and goals.
During the first year, students will take core courses that provide a solid foundation in business fundamentals. In the second year, students can choose from a wide range of elective courses and engage in experiential learning opportunities, such as internships and global study trips, to further develop their skills and expand their perspective.
UC Berkeley Haas MBA Placement
Graduates from the UC Berkeley Haas MBA program are highly sought-after by employers across various industries, as evidenced by the school's strong placement record.
For the class of 2021:
93.2% of students received job offers within three months of graduation

The average base salary was $139,122

The median signing bonus was $30,000
Major industries hiring Haas MBA graduates include technology, consulting, financial services, and consumer products. Some of the leading employers hiring Haas MBA graduates in each sector include: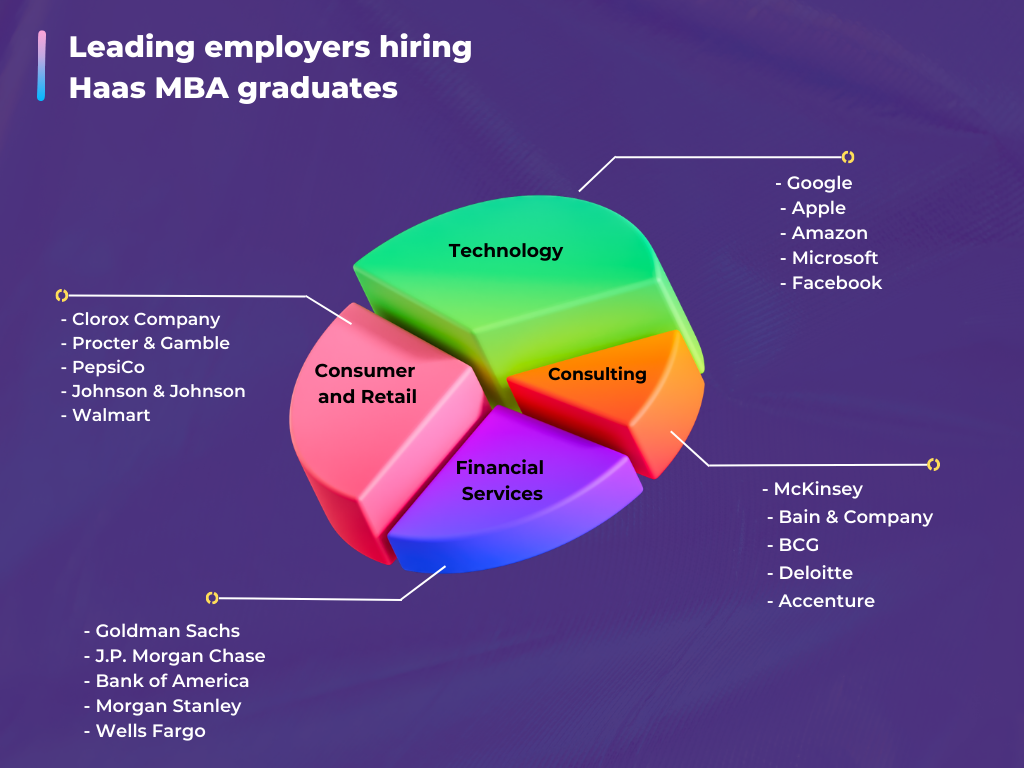 Please note that this list is not exhaustive, and Haas graduates are employed by a vast number of companies across various sectors. However, these are some of the prominent employers that consistently recruit from UC Berkeley's Haas School of Business.
Eligibility Criteria
When applying to the UC Berkeley Haas MBA program, applicants must submit several key documents and essays as part of their application package. These include:
Online Application: Complete the online application form, which includes personal information, educational background, and employment history.

Resume: Submit a current professional resume highlighting your work experience, education, and achievements.

Essays: Haas typically requires applicants to submit responses to two or three essay questions. These essays provide applicants with an opportunity to showcase their personal and professional experiences, goals, and how the MBA program aligns with their aspirations.

Letters of Recommendation: Two professional letters of recommendation are required, preferably from supervisors or managers who can speak to your abilities, work performance, and potential for success in the MBA program.

Transcripts: Submit official transcripts from all undergraduate and graduate institutions attended. If the original transcripts are not in English, certified English translations are required.

GMAT or GRE Scores: Applicants must submit their GMAT or GRE scores. The test scores are valid for five years, and the score report must be sent directly from the testing agency to UC Berkeley Haas.

English Language Proficiency: Non-native English speakers are required to demonstrate their proficiency by submitting TOEFL, IELTS, or PTE scores.

Application Fee: A non-refundable application fee of $200 is required to submit your application.
Make sure to keep up-to-date with the specific requirements and deadlines for the year you are applying, as they may change. You can find this information on the UC Berkeley Haas MBA admissions website.
UC Berkeley Haas MBA Cost and Acceptance Rate
The estimated total cost (tuition and fees) for the UC Berkeley Haas full-time MBA program is $64,246 for California residents and $68,444 for non-residents per year. The school offers various financial aid options, including scholarships, loans, and fellowships, to help students finance their education.
The acceptance rate at UC Berkeley Haas MBA is about 17.7%. The primary criteria for admission include academic achievements, GMAT/GRE scores, work experience, and personal qualities that demonstrate leadership potential, creativity, and resilience.