The SAT is a widely accepted college admissions test in the US, that evaluates students' readiness for higher education. It measures critical thinking, problem-solving, and analytical skills across diverse educational backgrounds. This test often becomes the comparator and benchmark for college readiness for applicants from around the world.
Recently, this test has embraced the digital revolution. Starting in 2024, the SAT will fully transition from a pen-and-paper format with students filling in bubbles on an answer sheet to a fully digital format, where the students will attempt the test on a laptop, tablet, or computer. For international students, the Digital SAT will be accessible from the beginning of 2023.
In this blog, we'll explore the key differences between the traditional SAT and digital SAT,  the advantages of the digital SAT, and crucial considerations to bear in mind.
Comparison: Digital SAT Vs. Classic SAT
Test Features
Digital SAT
SAT

Test Format

Computer-based 

Paper-based

Test Duration

2 hours and 14 minutes

3 hours and 15 minutes

Exam Sections

Two sections- 1.) Reading & Writing Section and 2.) Math Section

Three Sections- 1.)Reading, 2.) Writing, and 3.) Math Sections

Score scale

400–1600 (Evidence-Based Reading and Writing (EBRW) section (200-800) and the Math section (200-800) scored separately

1600

Penalty on incorrect answers

No negative marking

No negative marking

Use of calculator

Allowed




(when attempting the math section)

Restricted for Math section (separately timed no-calculator and calculator-allowed sections)




In-context questions length

In-context or word problem questions length is reduced (for practical math application)

Longer in-context questions 

Reading & Writing Passage length

Short passages, on diverse topics, and 

Longer passages on limited topics

Number of questions per passage

Single question for each short passage

Multiple questions asked for one passage

Test Attempts

7 attempts per year 

5 attempts per year

Results

Within a few days

Within a few weeks
Benefits of Transitioning to the SAT Digital
Adaptive Testing: The College Board released the new digital SAT with adaptive testing. The exam adjusts its difficulty based on student performance, getting easier after a wrong answer and more challenging after a correct one.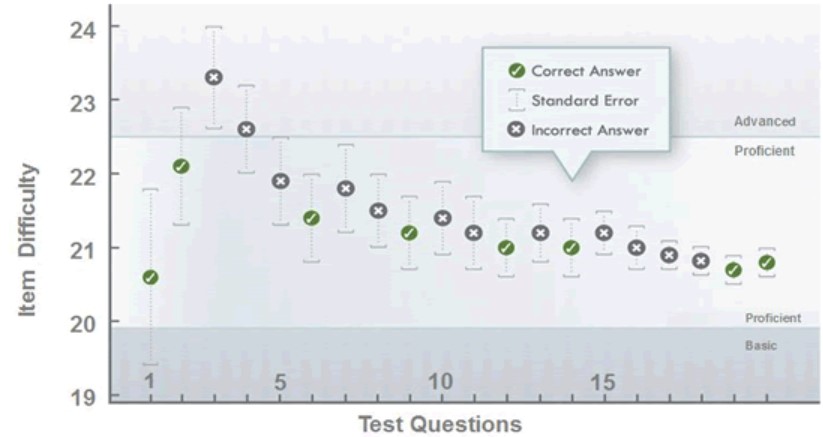 Accessibility: For students accustomed to using digital devices during the learning process, the digital SAT becomes familiar and intuitive. With a reliable device and internet connection, students can take the test from anywhere.
Flexibility: The digital SAT offers students more flexibility in choosing their test dates and locations, reducing the issue of being unavailable during the exam time at specific locations. This eliminates the added stress of limited options for students.
Security: Digital SAT is secure with encryption, monitoring, and anti-cheating measures to protect student data and ensure fair testing conditions. Each student will receive a unique test form, preventing answer sharing and score cancellations amongst student groups.
Accessible to Students with Disabilities: The Digital SAT can be customized to meet the needs of students with disabilities. It offers features like extended time and alternative formats, and provides further accommodations, such as scribes or readers, to ensure that students with disabilities have a fair opportunity to excel in the exam.
Quick Admission Decisions: Unlike traditional SAT where students had to wait weeks to get the result, in digital SAT students will receive the test scores in days. This will allow them to apply to their desired colleges and scholarships rather quickly.
Eco-Friendly Practice: The digital SAT is a smart move from an environmental perspective. By transitioning to a digital format, there will be a significant reduction in paper consumption and reducing waste, contributing to environmental sustainability.
Is the new Digital SAT easier or tougher?
The new Digital SAT is not designed to be easier or tougher than the paper-based SAT. The College Board aims to make the Digital SAT more secure, accessible, and efficient. However, some students who are not familiar with computer-based testing or operating digital devices may find it challenging. The adaptive testing feature may overwhelm some students as they may struggle to adjust to the dynamic nature of the questions.
Challenges & Considerations
While the digital SAT offers amazing benefits, certain challenges need to be addressed.
When students are taking the digital SAT, slower internet connections or older computers can affect their test-taking ability. Many students may even not have the resources to take this online test. To support the digital format, schools and testing centers must have sufficient technological infrastructure including suitable devices, reliable internet connections, and technical support. 
Students new to computer-based tests may struggle with online platform navigation and question format. Efforts must be made to bridge the digital divide and provide necessary resources to students. It is necessary to get them to practice in digital format many times before the exam.
Many parents and students are concerned about the security of this test. But, the college board assures that the digital SAT is a secure exam, which cannot be breached.
To sum it up
In the age of Digital SAT, this innovative approach to college admissions offers benefits for students and institutions alike. At LilacBuds, we embrace progress in college admissions and ensure a smooth, rewarding digital SAT experience for every student. Contact us now, and let's make your college dream a reality.