So, your UK student visa is refused? Facing a visa rejection can surely be emotionally challenging as it may disrupt your plans and dreams of studying and living in the UK. The rejection rate for UK student visas is approximately 3% to 5%. This is a comparatively low rate, viewed positively on international standards. Nevertheless, there remains a glimmer of hope.
You do have the opportunity to apply for a UK student visa once again. The positive aspect is that there exists no specific time limit for reapplying for a UK visa after a refusal. However, it is imperative to address the issues that led to the initial rejection of your new application for a more compelling visa request submission and increase your chances of success.
In this blog, we'll discuss the steps you need to take to reapply for a UK student visa after rejection. Check the Reasons for Rejection
Each visa rejection case is unique. Begin by carefully reviewing the grounds for your visa rejection by the UK Visa and Immigration (UKVI) authorities. Understanding these reasons helps in preventing them during the re-application process. 
Here are the common causes of UK student visa rejections:
Incomplete or inaccurate application forms

Insufficient financial documentation

Failing to sustain necessary funds consistently for 28 days

Weak connections to the home country

Discrepancies within the provided information

Absence of proof of intent to depart the host nation

Non-compliance with English language proficiency prerequisites

Unsuccessful credibility interview outcome

Not attaching an ATAS clearance certificate (required for ATAS-regulated courses)
For clarity, consult an immigration lawyer or experienced education consultant specializing in UK student visas. They can help analyze rejection reasons and guide your reapplication.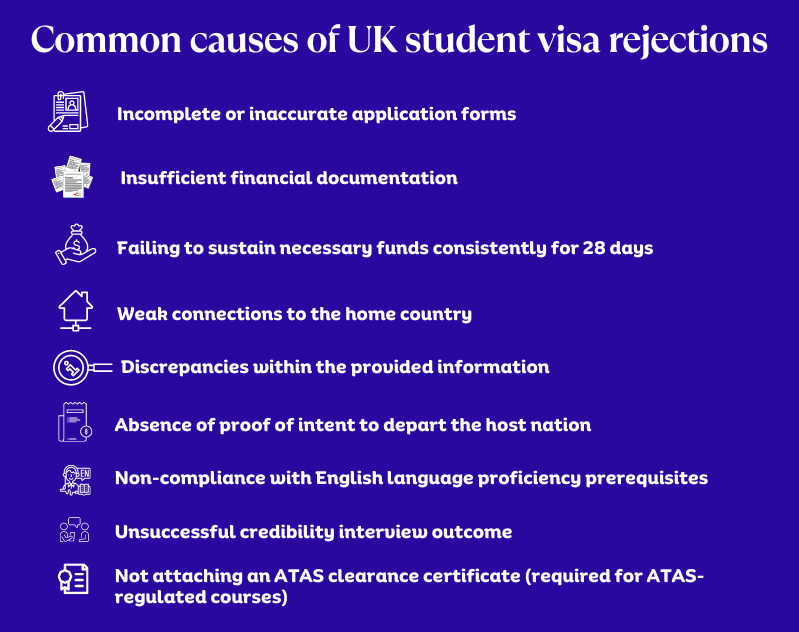 Make the Necessary Changes
Upon identifying the reasons for UK student visa rejection, it's important to make appropriate adjustments to your application. This could entail supplying extra documentation, addressing financial matters, or offering explanations to demonstrate your reduced risk of overstaying visas. Make sure the application form must be completed in full and accurately.
You must demonstrate sufficient funds to cover your living and study expenses in the UK. Proof can include bank statements, job contracts, or support letters from family. By strategically addressing these issues in your new application, you enhance your prospects for a favorable outcome.
Get your whole file reviewed by an expert visa consultant after making all the changes to get a second opinion and mitigate the reasons for any future rejections.
Resubmit your Application
After implementing the required modifications, proceed to resubmit your application. Alongside the revised documentation, enclose a strong cover letter or Statement of Purpose (SOP) that outlines your academic and career ambitions in the UK, sincere commitment to studying in the UK, and alterations you've undertaken in the new application.
When you effectively convey your improvements and your genuine intent, it strengthens your case and signals you are dedicated to meeting the visa requirements.
Pay the Application Fee
When you reapply, remember to pay the application fee again. This fee is crucial for moving forward with your updated application. The current fee for a standard student visa is £348, which covers the administrative processing costs.
Attend the Visa Interview
In cases where a visa interview is mandatory, thorough preparation is crucial. The interview serves as an opportunity for you to provide additional insight into your application and your intentions regarding studying in the UK. Expect questions about the details of your application, your study plans, and your financial situation.
Once you play your part, it is important to stay patient during the review of your new application. Maintain a positive outlook and believe in your abilities. LilacBuds is there to aid in achieving a prosperous visa application. We are one of the most trusted study in UK consultants and offer digital-first support for leading global programs. We assist in selecting a UK university and course aligned with your academic and career goals, strengthening your visa application.