If you are thinking about moving to Germany to pursue MS, you are not alone. This vibrant culturally rich country is becoming a favorite amongst international students aspiring to pursue their education in Europe in recent years. 
The combination of academic excellence, diverse program options, affordability, and a welcoming atmosphere makes this Schengen country an increasingly attractive destination for learners.
In this article to learn in detail why choosing Germany to pursue MS can be the right choice. Let's begin.
High-quality education
German universities are known for their high-quality education. The country is home to some of the best universities in the world. These universities uphold rigorous academic standards, boasting experienced faculty members and state-of-the-art research facilities. 
Some of the best universities in Germany for MS are:
Technical University of Munich 

University of Stuttgart

Humboldt University of Berlin

Ludwig-Maximilians-Universität München

Universität Heidelberg

Freie Universität Berlin
These universities offer a wide array of master courses in a variety of fields, including business and management, engineering, computer science and IT, social sciences, arts and design, medicine and health, etc. 
With so many options, you'll most definitely find the program that suits your academic and career goals.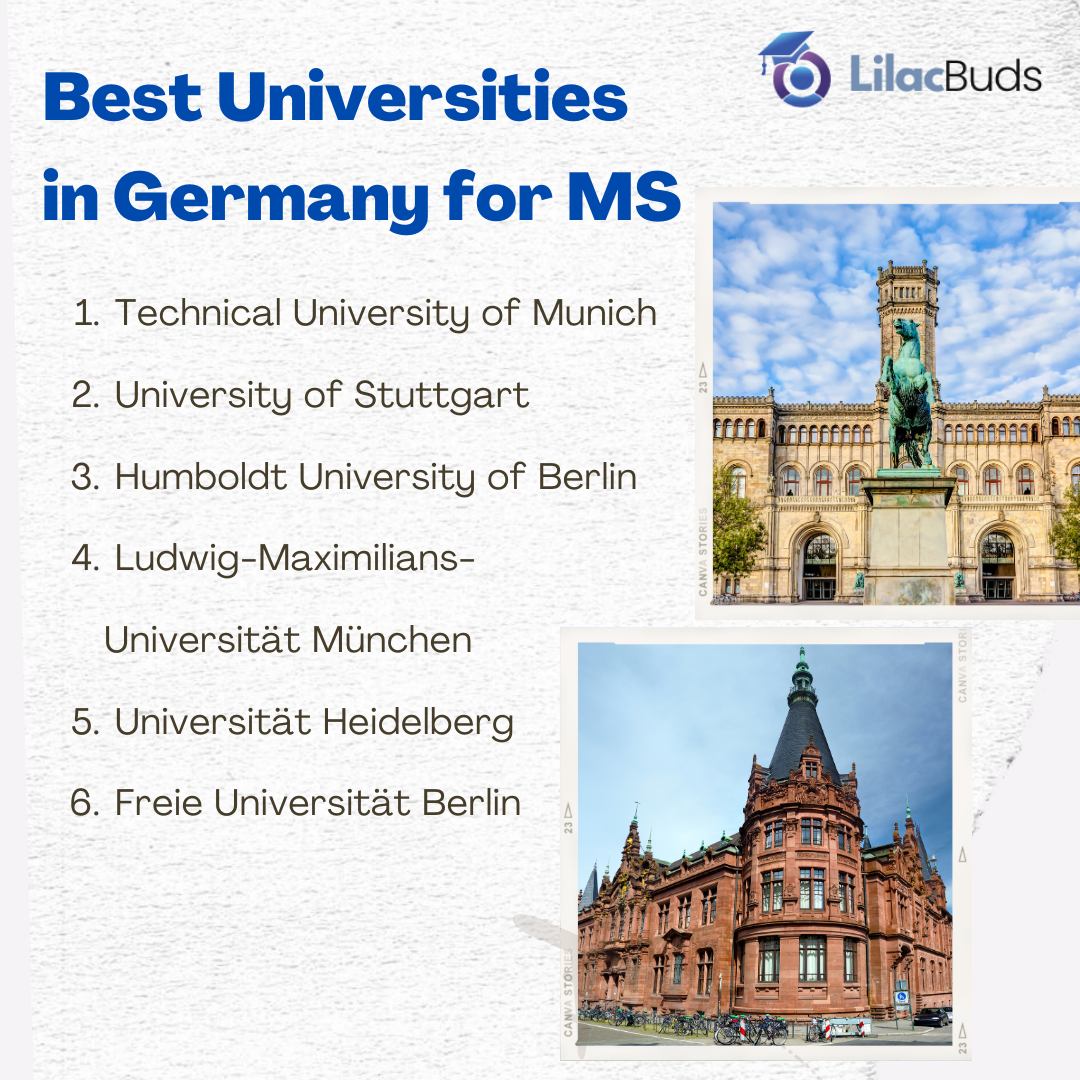 Excellent Research Landscape
Studying in Germany allows students to benefit from one of the world's leaders in research and innovation. The country offers outstanding study and research infrastructure. Most of their research facilities, located at the universities and non-university research organizations are well-equipped, providing ideal conditions for international early career researchers.
Germany's research excellence spans diverse fields, with particular strengths in engineering, information technology, pharmaceuticals, renewable energy, aerospace, chemistry, medical and healthcare research, environmental studies, economics, and social sciences. 
In the engineering sector, German research has led to advancements in automotive technology, making the country a hub for the development of electric and autonomous vehicles. The information technology industry benefits from cutting-edge research in artificial intelligence and cybersecurity, while the pharmaceutical sector enjoys access to groundbreaking medical discoveries and drug development. 
English-Taught Programs
German is the official language of instruction in Germany. This language has a reputation for being pretty challenging for English speakers. 
Fortunately, a significant number of German universities provide Master's programs conducted entirely in English. This comes as a great advantage for non-German speakers and international students who are still in their learning phase of the German language.
However, we highly recommend that students should consider learning the German language when they are planning to study in Germany. Being proficient in German will be beneficial for post-study work visa opportunities and overall integration into German society. At LilacBuds, we offer coaching and language training through our esteemed partners to ensure that you make the most of your academic and professional experience in Germany.
No Tuition fees
The majority of public universities in Germany do not charge any tuition fees for German and international students. They only impose some administrative fees or additional expenses linked to academic pursuits. 
The goal of the German government is to make education accessible to everyone, regardless of their financial situation. By eliminating tuition fees, they are making education become affordable and attracting international students to choose Germany as their study destination.
In Germany, private universities are not funded by the government, so they charge tuition fees, ranging from €10,000 to €20,000 per year. However, this fee is much less compared to the tuition fees charged at international destinations like the UK, the US, and Australia, for similarly ranked globally reputed institutions.
Financial Aids
German universities also offer a variety of financial aid programs to international students, funded by the government, as well as by private organizations. Organizations like DAAD (German Academic Exchange Service) offer scholarships to support foreign students in their academic pursuits and cover living expenses. 
Private scholarships like Heinrich Böll Foundation Scholarships, and Konrad-Adenauer-Stiftung Scholarships also help ease the financial burden of German and international students.
Safe and Stable Environment
Germany is known for its strong and resilient economy, offering fantastic perks for students pursuing their MS. The country's excellent public transport, healthcare, and social services make life comfortable and safe for students so that they can focus on their studies.
As a student in Germany, one can enjoy a high standard of living. International students will find affordable accommodation options, delicious food, and plenty of opportunities for fun and entertainment, making their time in Germany even more enjoyable.
Easy Admission Process
The eligibility criteria and the admission process for an MS in Germany are transparent in Germany. Most universities provide clear application guidelines and requirements for an MS in Germany, which can vary depending on the university and the program. 
A good GPA in your undergraduate studies is crucial, generally an 8.0 out of 10 or higher. Additionally, a strong letter of motivation, letters of recommendation, and proficiency in the German language (tested through TestDaF or DSH) are important components of your application.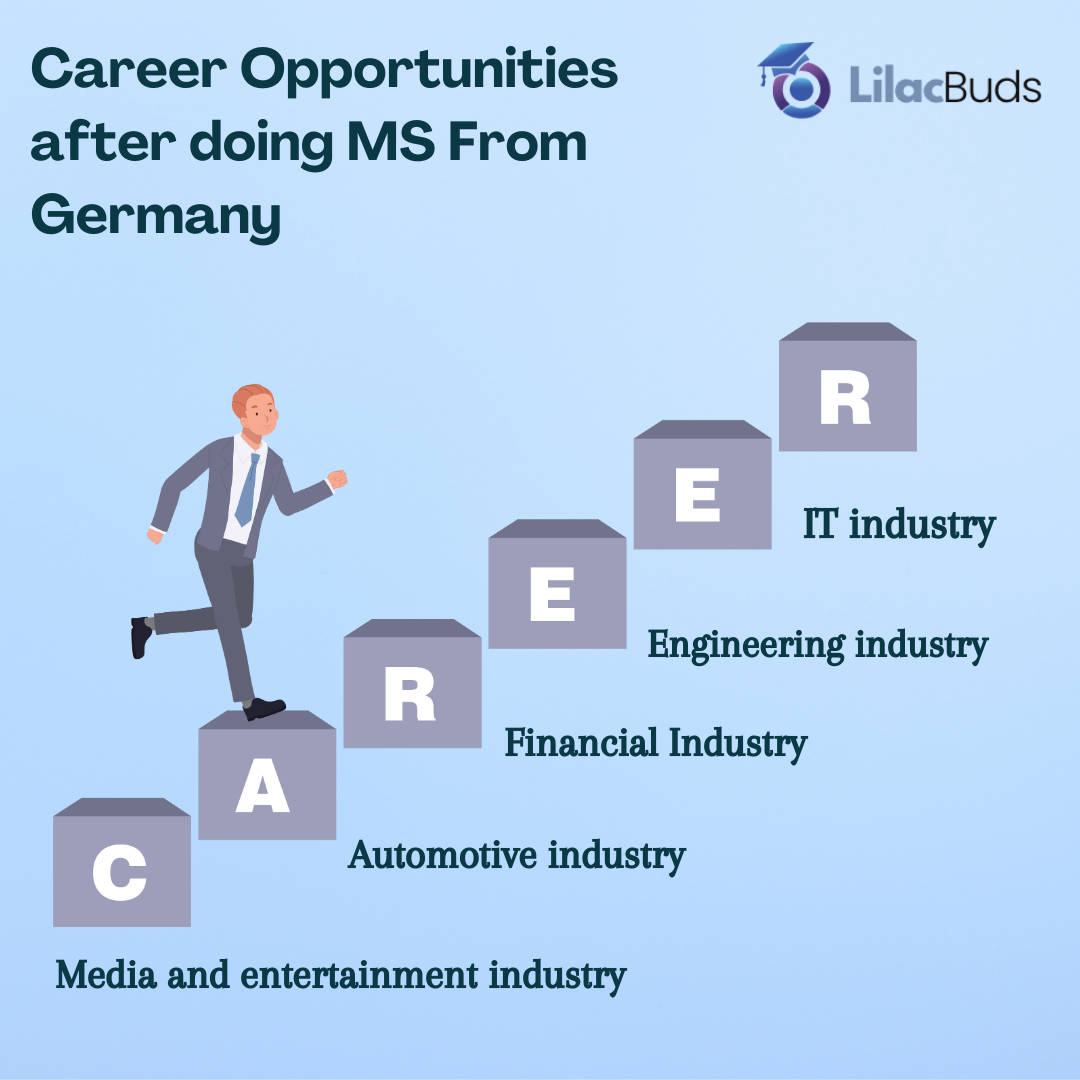 Career Opportunities
Germany, with its strong economy, offers numerous job opportunities, especially for technical and scientific graduates. Many universities here collaborate closely with industry, enabling student internships and job placements. 
Here are some of the prominent tie-ups:
Automotive industry-Car manufacturers like BMW, Mercedes-Benz, and Volkswagen

IT industry- IT companies like SAP and IBM

Engineering industry- Siemens and Bosch

Media and entertainment industry- Bertelsmann and Axel Springer

Financial industry-

Deutsche Bank, etc.
The average salary for a qualified worker in Germany is around €50,000 per year, which is significantly higher than the average salary in many other European countries.
Here are some of the best Master's programs, their salaries, and popular job titles:
| | | |
| --- | --- | --- |
| Degree  | Average Salary per year | Popular Job Title |
| Master's in Engineering | € 55,000 | Engineers |
| MS in Data and Knowledge Engineering | € 70,000 | Data Scientist |
| MS in Computer science | € 80,000 | Project manager |
| MS in Computer science | € 76,000 | IT Managers |
| MS in Robotics | € 110,000 | Robotics Research Engineers |
Please note that these are average salaries. The exact amount can vary as per the company, location, project, etc. 
To sum it up
It is evident that studying MS in Germany offers numerous benefits, from high-quality education to a welcoming environment and ample career opportunities. If you have more doubts, consider connecting with us. 
At LilacBuds, we offer a digital-first approach, providing personalized mentoring for top global programs, covering test prep, profile development, and admissions support. Give us a try and we'll ensure you achieve long-term success in your career in today's global education landscape.