The F1 visa is a student visa that is given to international students who want to attend educational institutions in the United States. F1 is a non-immigrant visa that is usually granted for a period of 5 years. This visa is issued to academic students enrolled in universities, colleges, high schools, language training programs, and other academic institutions.
Every US student visa interview is different, and applicants experience varying questions based on their interviewing officer and their personal plans for the visa. Some interviews are very formal, whereas others are more like a conversation about your academic plans and goals. There is no pre-defined standard list of US F1 visa interview questions that every interviewer follows. However, every interviewing officer is only trying to ascertain two things about you when you apply for the visa.
What is your intent on studying in the US?
Can you afford your stay in the US?
Most of the questions the interviewer will ask will pertain to these two topics so you should be prepared to adequately answer any questions regarding your educational plans and financial support while on the visa. We have broken down the questions into 4 categories below:
Increase Your Selection Chances
Frequently Asked F1 Visa Interview Questions
Question Type 1: College & University Related
What is the name of the program you are planning on going to and why did you choose to go to this specific university or college for it?
To how many universities did you apply to – Name them
Which universities accepted/rejected you?
What is the name of your Indian college / high-school ? Which undergraduate degree did you get ? What did you study in school/college?
What is your Academic GPA or Percentage?
Name a few professors or people you are in contact with from the US university.
What are the reasons for you coming to study in the United States?
How long are you planning to stay in the United States?
Are you also planning to study for a Ph.D. in the US after having completed your master's degree?
The major which you are taking is also available at other universities, why did you decide to go to this university and not to one of the others?
Can you tell me why your GRE/TOEFL scores are low?

This is really important and you have to be prepared thoroughly. The visa officers want to know if your family and you will be able to financially support your studies in the United States. The United States can be overwhelmingly expensive for higher education and it is very important that you answer all of the questions clearly, in a manner that visa officers are expecting.
How will you be paying for your education? Who are your sponsors?
How are your sponsors (self, parents, guardians, etc.) going to be able to pay for it? What are their professional background and monthly/annual income?
Tell us more about your parents and their job roles. What is their income and how long they have been working for the company?
If there are other sponsors – please tell us their annual income.
How much does your university program cost for a year?
Are you going to get a loan? Have you applied for one? Is the loan sanctioned?
Show us your sponsor's current bank statements. (latest 3-6 months)
If you are planning to stay for two or three years, how will you finance your education and your living?
On your bank statement, we can see large portions which only have been deposited recently. Please explain! (This is a real tricky one – since visa officers are used to assessing the change in balance for the last 15-20 days) – Having clear answers aids the officer to assess the source of the income – e.g. sale of shares, gold, consolidating various accounts, etc.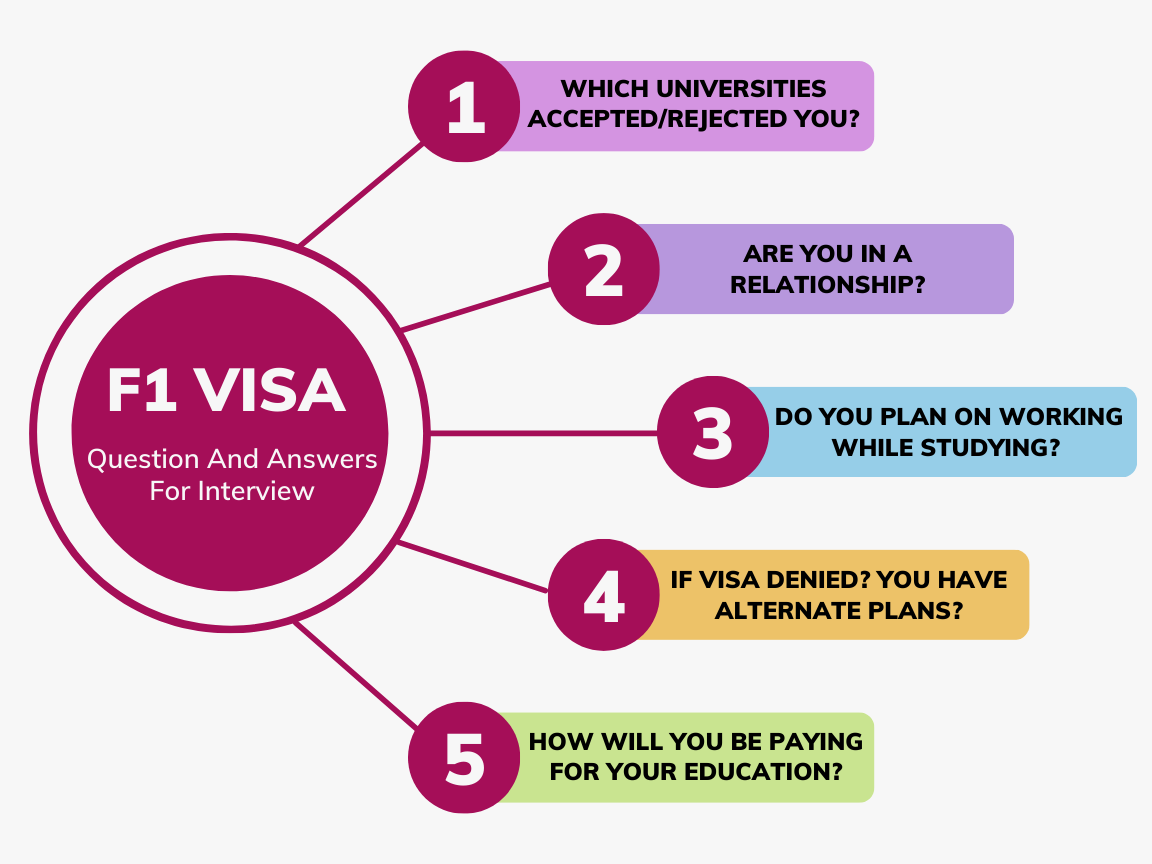 Question Type 3: Relatives / Family Members in the US
Remember the answers you have given in form DS160. For example, if you have relatives in the United States, tell them that you have relatives there – don't lie about it.  Lying only makes things worse and can cause you a lot of trouble.
Do you have brothers and sisters? Are any of them living in the United States?
Do you have any other relatives who live in the United States? – (please only respond Yes, if they are close relatives)
Why does your brother/ sister live in the United States? What do they do here, do they work or study here?
Which state or city is your sibling in? Where do they work/study? How long have they been living in the US?
Since you have a sibling, will your parents be able to afford your education abroad in the United States? (esp if both of you are studying) – Show proof of additional income in such situations.
Would you also like to stay in the US to work? (this is usually asked if your sibling is working in the US)
Are you in a relationship?  (targeted towards MBA students or those above age 26+).
Question Type 4: Work related + Stayback intent + Miscellaneous
These questions also give an idea about your lifestyle and whether or not you might be going to the US to stay for longer.
If you work, why do you plan to leave your current job in order to go abroad to study? (targeted to MBA students)
Please show us your CV or experience letter that demonstrates your professional work.  (targeted to MBA students)
What is your annual salary? How much savings do you have? (targeted to Masters/MBA students)
Once you have finished your studies, do you plan to stay in the United States to work? – Answer this honestly. Let them know you intend to leverage the OPT period to gain practical exposure and learn about the industry.
Do you plan on working while studying? – Respond clearly about any assistantships that you will seek from the college / university & any on-campus opportunities you plan to take up. DO NOT talk about working to alleviate the burden of your sponsor, since then it will appear like a conditional / temporary financial support, and may jeopardize your chances.
What are your reasons to study in the United States, why didn't you choose to go to Canada or another country?
If you were to not find a job after completing your studies and had to return to your country – what would you do? – Tell them that you will explore domestic professional opportunities and hope to benefit from the American education in case you had to return immediately.
Why do you want to do a Master's or Ph.D. degree? – This is a tricky one. Clear goals
I think you want to immigrate to the United States, or are you planning on going back home? – (Dangerous question so Stay alert. Express clearly why you think an American education will improve your career, and then talk about the opportunities you will have in your home country as well)
Tell us everything you know about education and the education system in the US. – Rare question – but talk about the learning format
Why did you apply for a summer semester and not for the fall semester too? – (For Spring start programs. Since your CPT eligibility is not there)
 What are your plans after having completed your studies in the US?
How can you prove to us that you won't stay in the US after the completion of your studies? (Tricky one: Either talk about family situation e.g. only child, or talk about the family business, or current job and prospects in India, etc)
Is it your first time in the US or have you visited before?
What are your career goals back home after your studies? Or are you planning on going somewhere else?
As you choose this specific university, do you happen to know anyone who studies there?  (You can refer to alums you spoke to before enrolling)
What are your plans if your student visa is not approved?  (Tricky one: if you have a job offer, talk about it, else say you will be dishearten as you worked really hard and got admitted to a top university through your efforts, and to have your career plans altered may require you to consider higher education locally)
Are you planning to go home during your summer vacation? (usually this will be a "Yes" – come to meet the family – even if its for a week)
We can see you got a scholarship, why do you think they gave it to you?
Why don't you want to study in your home country? (usually this will be related to similar quality programs not being offered and the quality of research / knowledgeable faculty present in the US)
Can you explain to us why you changed your field or career?  (Plan to get this question if you are working in a different field from the program you got into)
LilacBuds is one of the most trusted study abroad consultants in Mumbai, Delhi, and entire India for Undergrad and Masters admissions consulting to premium institutes globally. It is an exhausting list but it encompasses the possible US F1 visa interview questions you might be asked in your interview.